Irving Plaza Seating Chart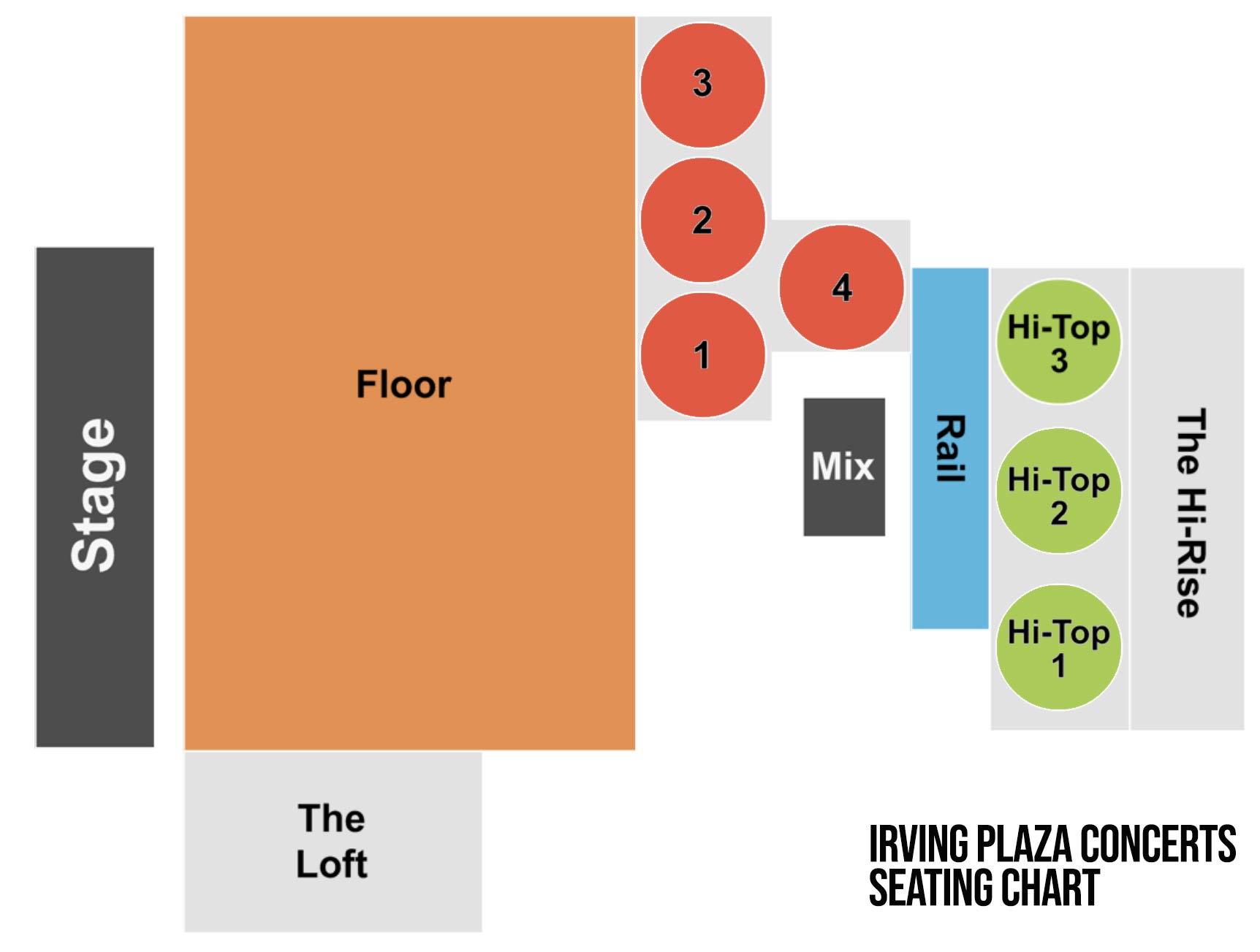 When it comes to selecting the ideal seating arrangement at Irving Plaza, you have several options to consider:
General Admission Floor, Near the Front
If you are seeking an immersive experience, the general admission floor is your go-to choice. Positioned right in the midst of the excitement, this area places you at the heart of the action. Please keep in mind that you'll need to stand for the duration of the show.
Balcony, Near the Front
The balcony at Irving Plaza boasts an exceptional view of the stage, accompanied by excellent sound quality. Opt for this spot if you aim to be close to the action without having to stand throughout the entire performance. The balcony offers a great compromise between proximity and comfort.
VIP Tables
For a more lavish and exclusive experience, consider indulging in VIP tables. These tables offer reserved seating, personalized server service, and access to a private bar. If you're aiming for a touch of luxury, this option is tailor-made.
Accessible Seating
The General Admission area is wheelchair accessible but please note there are no handicapped bathroom facilities available.
Regardless of your choice, rest assured that any seat you pick at Irving Plaza guarantees an enjoyable time. Here are some additional pointers to aid you in making the best seating decision:
Event Type Consideration
Your choice might be influenced by the nature of the event. Being closer to the stage for a rock concert delivers the ultimate experience. At the same time, balcony seats can provide an enhanced view of the artist for more intimate performances.
Seating Chart Check
Explore the Irving Plaza seating chart. This resource will give you valuable insights into the location of different seats and the perspective from each section.
Early Ticket Purchase
The most desirable seats at Irving Plaza are quick to sell out. Purchasing your tickets well in advance is advisable to secure a prime spot.
Flexibility
Should your initial seat preferences not be available, don't hesitate to embrace flexibility. You might be pleasantly surprised by how much you relish a different part of the venue