Irving Plaza | New York, New York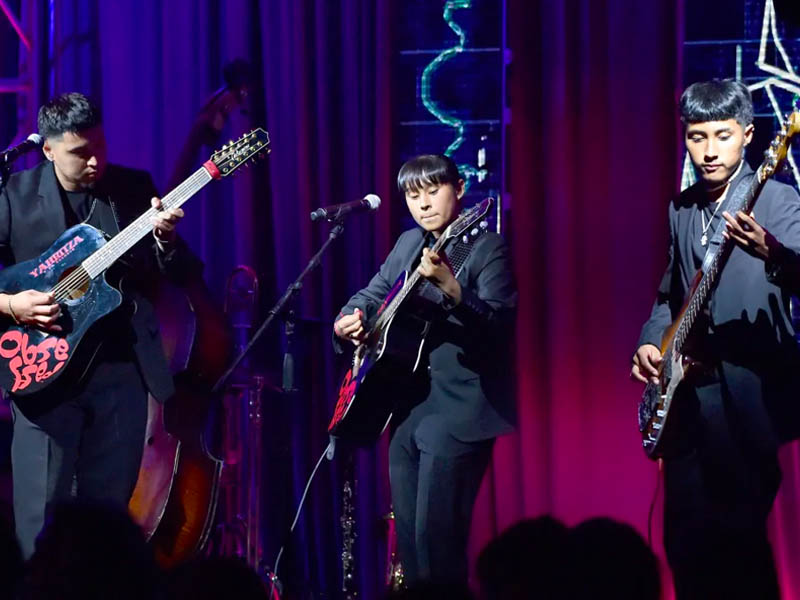 Urban Sierreño powerhouse Yahritza y Su Esencia has something amazing up their sleeve this fall! The Latin Grammy-nominated group is set to conquer the nation with their brand new outing, The Obsessed Tour, and they're hitting numerous cities across the U.S. The trek, which was originally set for the summer, sold out many of its dates. Hence, the trio announced their extended dates due to public demand! Lucky for fans in New York, Yahritza y Su Esencia is heading towards East, and their outing now includes a stop at the Irving Plaza! On Thursday, 2nd November 2023, fans can look forward to incredible regional Mexican staples infused with urban influences, such as "Fragil," "Soy El Unico," "Solo Que Lo Dudes," "Inseparable," and many more! If you're a fan of excellent Latin music that mixes both urban and traditional influences, this is your opportunity to see one of the hottest Latin American groups of the year! Catch Yahritza y Su Esencia at the Irving Plaza, New York, this fall by securing your tickets now through the Get Tickets link!
Last year, this phenomenal Latin-American group comprising Yahritza, Armando, and Jairo Martinez made headlines when their debut album, Obsessed, was nominated for Best Norteño Album at the Latin Grammy Awards. Meanwhile, the trio was also nominated for Best New Artist. Yahritza y Su Esencia is virtually regarded as the fastest-rising stars in the regional Mexican music circuit in the U.S. The Washington natives, who happen to be siblings, are putting themselves on the map with their incredible fusion of regional and urban music.
Having grown up with Mexican traditions, the siblings were immersed in their parents' rich culture. This allowed them to experiment, explore rhythms, and be influenced by traditional music they would hear at home. At 14, Yahritza wrote the song "Soy El Unico." The single made waves on the Billboard charts, peaking at number 1 on the Global 200 chart, and has consistently ranked number 1 on Youtube Music in the U.S. Over in Mexico, the song landed at a cool number 5.
Using social media platforms like Youtube and TikTok, Yahritza y Su Esencia quickly gained some tracking and eventually went viral. The group later collaborated with Legado &'s Ramon Ruiz and Alex Guerra, both are known for helping up-and-coming artists. Last spring, the trio finally released their debut album, Obsessed, quickly gaining amazing commercial success. With two Latin Grammy nominations up their sleeve, a sold-out summer tour, and a massive fall tour on the way, Yahritza y Su Esencia is on the verge of incredible stardom. Last year, the LA Times called them "the hottest act in Latin Music."
Expect plenty of addictive beats, outstanding rhythms, and top-tier regional Mexican music! Yahritza y Su Esencia will perform their incredible high-energy set at the Irving Plaza. You will have the best night out singing and dancing along to the group's fantastic approach to Urban Sierreño!
Catch Yahritza y Su Esencia as they take over New York's iconic entertainment venue, the Irving Plaza. The concert hall, which can house many types of functions, has been a favorite among today's hottest music stars. The venue has a long history of hosting concerts of the biggest names in music. It's also conveniently located in Union Square, so attendees can easily take the New York City Subway. If you're bringing your car, the venue also has ample parking within a two-block radius.
Hurry and score tickets to see Yahritza y Su Esencia at the Irving Plaza on Thursday, 2nd November 2023! Book your tickets through the Get Tickets link now!