Irving Plaza | New York City, New York
In a sea of eccentric K-Pop acts, a Korean indie-rock artist is set to challenge airwaves as Wave to Earth launches its first-ever North American headlining trek, kicking off this August. The tour includes a stop at Irving Plaza in New York on Saturday, 9th of September 2023, right before it concludes its trek heading to Vancouver and Seattle. The band's massive tour announcement follows the release of its first studio album, "0.1 flaws and all". They recently released a music video for their mellow track "sunny days", entirely shot in the Philippines. As the indie-rock trio serves its unique brand of Korean indie-rock with hints of jazzy notes, they're all set to offer global airwaves a different flavor of Korean music. Taking listeners by surprise with their debut single "wave" in 2019, Wave to Earth continues to generate huge waves with their low-fi-driven sounds exuding pleasant memories in every track. Don't miss out on their North American tour by booking your tickets now!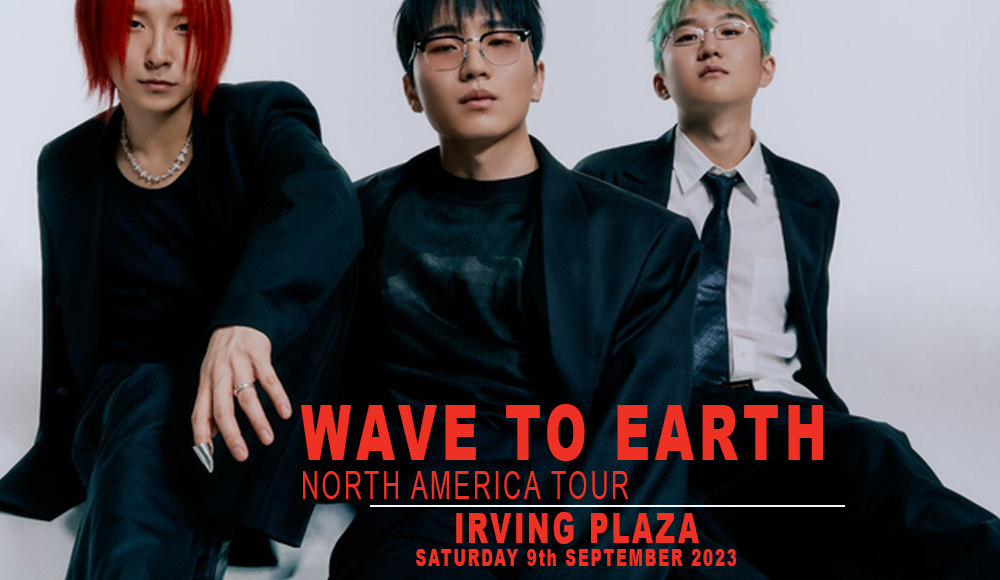 Wave to Earth started making its waves roar in 2019 with their debut single "wave". The band introduced a unique flavor of Korean music, one that exudes indie-rock character while touching on lo-fi beats and hints of jazz in its blend. "We really want to make people listen to our music in a relaxed, comfortable way," the band shared with Bandwagon Asia. If there's one thing that could describe Wave to Earth's music, it's definitely relaxing. With their debut album finally out and about, airwaves have been blessed with Wave to Earth's musical sensations. The album features their hit singles "dried flower", "nouvelle vague", and "calla".
As the Korean indie-rock trio embarks on its first headlining North American Tour, Wave to Earth is jet-set to make its unique sound known to the ends of the earth. The tour includes stops in Los Angeles, New York, Dallas, Toronto, and Vancouver, kicking off this August.
Rooted in Seoul, South Korea, the band records under the Korean label WAVY founded by Colde. Offering a roster of English-sung songs, the band consists of singer-songwriter Daniel Kim, bassist John Cha, and drummer Dong Kyu Shin. Together, they create dreamy atmospherical lo-fi indie-rock masterpieces that make listeners feel like their floating amidst gentle waves.
Taking pride in "All self-made" recording and producing their own music, all done by the members themselves, Wave to Earth is definitely a talented trio of musicians whose music speaks for itself. As the band steadily grows its listeners and fanbase, they hope to "become the new wave" and offer global airwaves a new flavor of sonic masterpieces.
"This is a no-skip album — all of the songs are beautiful in their own way," Malea Nguyen shared in her review of "0.1 flaws and all" for The Gauntlet. "This album felt healing in the sense that their music shined a light on how beautiful both joy and hardship can be."
As they take their new record from Seoul to the other end of the globe, Wave to Earth is set to generate immense waves of support from its fans as they hit the stage, sharing their unique sonic offerings across North America. Don't miss out by booking your tickets now!