Irving Plaza | New York, New York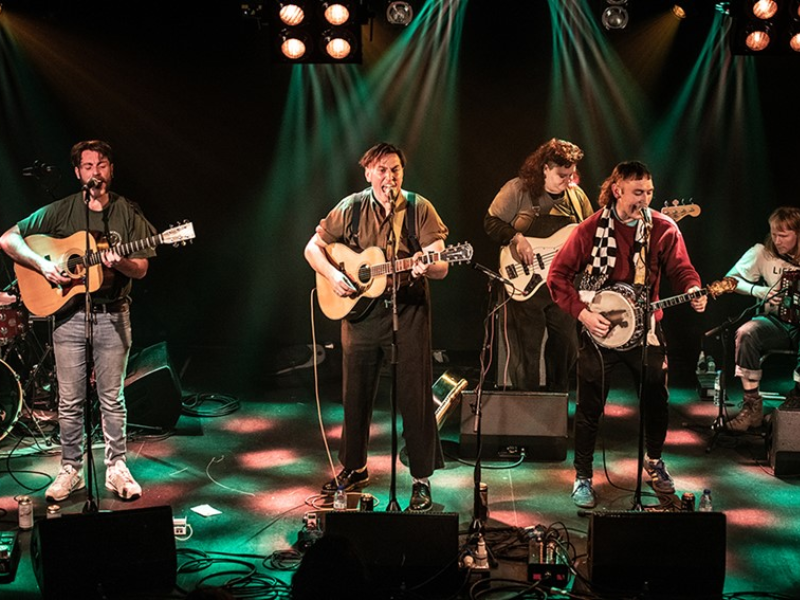 Rock along to intoxicating odes of mischief, devilry, and drinks! The Mary Wallopers will take their talents to the Irving Plaza on Saturday, 14th October 2023! The event will be part of their US and Canada Tour, which kicked off earlier in July. With the success of their first studio album last year, the renowned Dundalk folk group is set to release another album in the coming months. The group began their career by performing in local pubs and instantly became famous during the pandemic when they started live-streaming shows. Uncut's "Heirs to the Dubliners and The Pogues" are here, and you don't want to miss them sing their record-breaking hits, "Frost Is All Over," "As I Roved Out," and "Eileen Og." Catch the youthful and chaotic Irish band at the iconic New York City stage, and vibe with the crowd! Tickets are selling out, so reserve your spots now!
As part of their US & Canada tour, The Mary Wallopers is coming to the Irving Plaza on October 14, 2023. Later this year, the band will kick off their European Tour 2023 at Rotterdam Rotown, Netherlands, before passing multiple cities in Sweden, Denmark, and Germany.
"The group have endeared themselves and Irish folk music to a new generation, and kept the stories of their fathers and grandfathers alive in song. Their music is upbeat and dynamic and their live performances are simply sensational. The Mary Wallopers in their music and their spirit are quintessentially Irish, and a band I couldn't recommend seeing live more," the Hot Press shares.
Brothers Charles and Andrew Hendy, along with Sean McKenna, make up the contemporary Irish folk music ensemble known as The Mary Wallopers. The band started off as a trio, but has now grown to a seven-piece ensemble thanks to their live-streamed performances at Charles and Andrew's house.
Following the release of their top-selling self-titled debut album in October of last year, the band scheduled their first North American tour.
The Wallopers started performing traditional music in taverns, where musicians would perform in exchange for drinks and were familiar with over a hundred tunes. Their single "Cod Liver Oil & The Orange Juice," from their first EP, 2019's "A Mouthful of The Mary Wallopers," became an instant hit and helped propel them to fame.
During the 2020 COVID pandemic, they produced "Stay at Home with the Mary Wallopers," a live-streamed program, to entertain viewers while lockdowns were in effect. They sang, drank beer, and engaged viewers via a chat window, gaining them more than 40,000 followers by the end of the endeavor.
"The Mary Wallopers' Celtic soul is heavy, but their best moments are their least complex. A raucous final slew of floor-shaking singalongs starts and ends in righteous, booze-sodden nihilism," the Guardian explains.
For over 150 years, the Irving Plaza has long been a cherished establishment that can hold a maximum of 1,100 individuals. The completely renovated interior has revitalized the entire venue's ambiance while preserving the enchanting 19th-century allure, enhancing the overall live concert experience.
Buy your tickets now for this incredible event!