Irving Plaza | New York, New York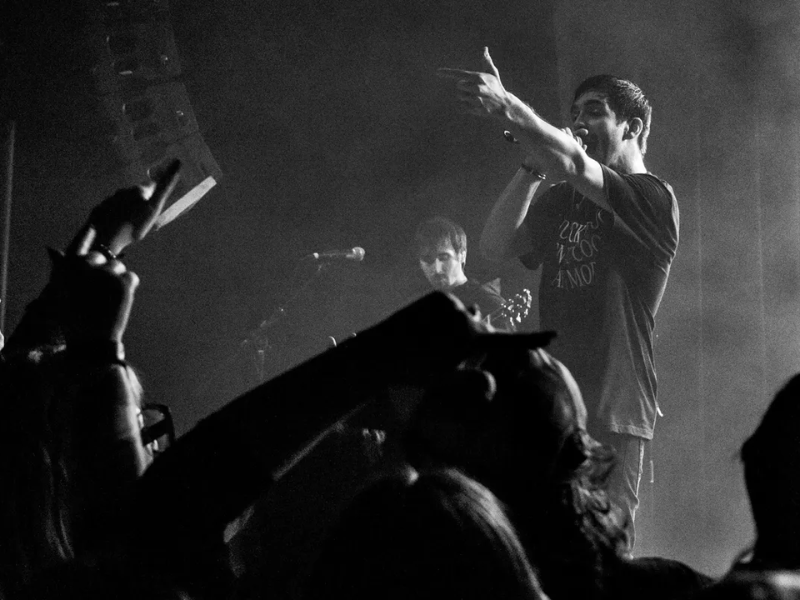 Rebellious spirits are about to collide! Check out Real Friends & Knuckle Puck live at the Irving Plaza in New York City on Saturday, 9th December 2023! These two bands will be co-headlining their "Chilling and Rocking Across the USA" tour that promises to bring fan favorites along with new singles originating from their most recent albums, which were released earlier this year. The alternative pop-punk event will feature special guests One Step Closer, best known for hit single "I Know So," as well as the emo geniuses behind "Watercolour," the one and only Arm's Length. Everyone's invited to the premier music events venue in the heart of the big apple, where the explosive duo will perform tracks that will keep the crowd shouting 'encore' for the rest of the night! The floor is expected to be packed to the brim, so don't leave us hanging - reserve your slots now and party like an animal with us!
Real Friends & Knuckle Puck will be hitting the stage at the Irving Plaza on Saturday, 9th December 2023! Both bands are going on the road for their "Chilling and Rocking Across the USA" tour, which will feature special guests One Step Closer and Arm's Length!
Knuckle Puck is an American pop-punk band, founded in 2010 in Chicago, Illinois consisting of lead vocalist Joe Taylor, lead guitarist Kevin Maida, and drums by John Siorek. In the 2016 Alternative Press Music Awards, Knuckle Puck was nominated for Best Breakthrough Band and Album of the Year.
"Hearts were racing, feet were itching to move again, and eyes were glued to the stage in the hopes that the music being played over the speakers would dim, telling us Knuckle Puck were finally going to play. It's the kind of excitement where you want to jump on the spot or run around but don't want to leave your position or look away in case you miss something. ," Strife Mag shares.
American group Real Friends is another pop punk band hailing from Tinley Park, Illinois, with band members including Dave Knox on lead guitar and backing vocals, Kyle Fasel on bass, Eric Haines on rhythm guitar, Brian Blake on drums, and Cody Muraro on lead vocals, who was previously announced as a replacement for longtime vocalist Dan Lambton last June 2021.
"It is impressive that Real Friends have managed to gain such a massive following with three studio albums. Good for them, perhaps it has something to do with the Tinley Park, Illinois band's honesty, openness, and connection with their fans. Like each of the bands on the night's bill, Real Friends' music features lyrics on topics like relationships and mental health – a subject the band are very open about," Cryptic Rock shares about one of their recent live performances.
The Irving Plaza stands out as the premier music events venue in downtown New York, offering a perfect harmony of top-tier artists and an unparalleled atmosphere, with a history of phenomenal live concerts.
Expect a high-energy performance from the two headliners for a pumped-up Saturday night! Buy your tickets now and join the insane crowd!