Irving Plaza | New York City, New York
Get ready, New York City! The PopShift Music Festival is coming to town, and you won't want to miss it! It's the big comeback of SESSIONS, reimagined as Popshift, getting ready to give an unforgettable Saturday night, May 20, 2023. A live concert will light up the iconic Irving Plaza with an electrifying lineup of South Asian artists. Hold your mouth as you experience the jaw-dropping talent of Jay Sean along with amazing artists Jonita Gandhi, Talwiinder, Rhea Raj, ZeeMuffin, Sanjoy Deb, and PDNY/HYDR. Bring in your favorite retro or vintage attire as we tune in to the timelessness of music by our South Asian artists. This is a full-tanked event that you won't want to miss, as we bring together a phenomenal array of South Asian talent in the heart of New York City. Mark your calendars so you won't miss it! Secure your tickets NOW for the PopShift Music Festival!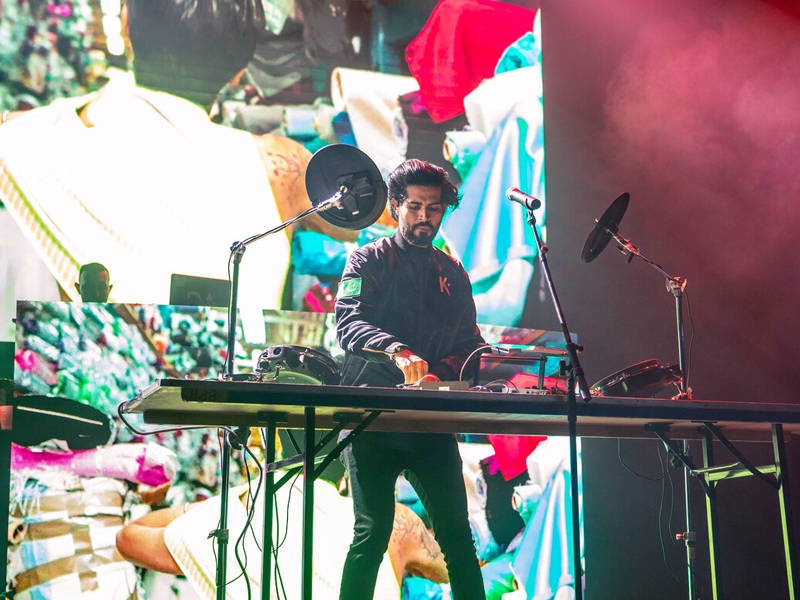 The PopShift Music Festival is the renamed comeback of SESSIONS. Presented by Toyota, this event will bring an unforgettable time by building a platform that will unite top-level South Asian artists and bands around the world.
The concert on May 20, 2023 will be jam-packed with many talented artists featuring the main part of the lineup, Jay Sean!
Kamaljit Singh Jhooti or better known by his stage name, Jay Sean gathered numerous fans with his crossover appeal in his bhangra-infused R&B. In his younger years, he became exposed to the melting pot of music in the UK which became the foundation of his interest in music. You won't be able to resist his infectious tunes like his chart-topping hits "Down", "Ride It" and "Do You Remember".
Jay Sean blends pre-recorded tracks with live instrumentation that giving his audience a different, broader sound. Energetic and extremely engaging, his performance will be the most unforgettable serenade you will ever have.
Speaking of serenades, Jonita Gandhi, Toronto's Nightingale, will make you fall in love with her mesmerizing voice. The award-winning Playback Singer is a force that dazzled fans worldwide and will surely steal everyone's hearts in the concert.
Next on the lineup is Talwiinder, the Indian singer-songwriter taking the music scene by storm with his own compositions. He has continued to musically grow and has perfectly blended his foundation of classical Indian songs and Bollywood films with new genres of music. His unique sound was recognized and his song "Tumhari Tasveer" made waves across the country.
Rhea Raj, another artist who will grace us in the concert, is a master of performing, entertaining, writing and recording her own original music. From the age of two, she has been enthralled with music. Now, her latest release single "Venom" showcases Rhea in her element – dark pop and R&B fused with her Indian-American roots.
A concert that won't make you dance the night away isn't complete and Zainab Hasnain aka ZEEMUFFIN won't disappoint you. Her DJing style as she effortlessly blends Hip-hop, Reggaeton, House, Club, Dancehall, Bhangra, Baile-funk, and Future-beats will be the perfect soundtrack to an eclectic festival experience.
Sanjoy Deb, or known primarily by his stage name Sanjoy is an American musician, electronic music producer and DJ. His production in the EDM genre is influenced by Bollywood. He has also charted on US Top 40 and dance radio with his most famous piece "Shangri-La". He has released "OBVI", "One in a Million" and was featured in Guru Randhawa's blockbuster album "Man of the Moon" where he wrote five songs.
Last on the list is PDNY/HYDR a duo who shifted the music scene in South Asia. They revived the industry with a younger, fresher, and more diverse crew. Their brilliant voices smoothly intertwine with reggaeton beats.
Can you imagine the hype with these numerous talents? Now imagine them performing in the historic Irving Plaza, where legends like Eric Clapton, Red Hot Chili Peppers, Bob Dylan, and many more have graced the venue. Get your retro clothes ready and join us at the PopShift Music Festival! Grab your tickets now!