Irving Plaza | New York, New York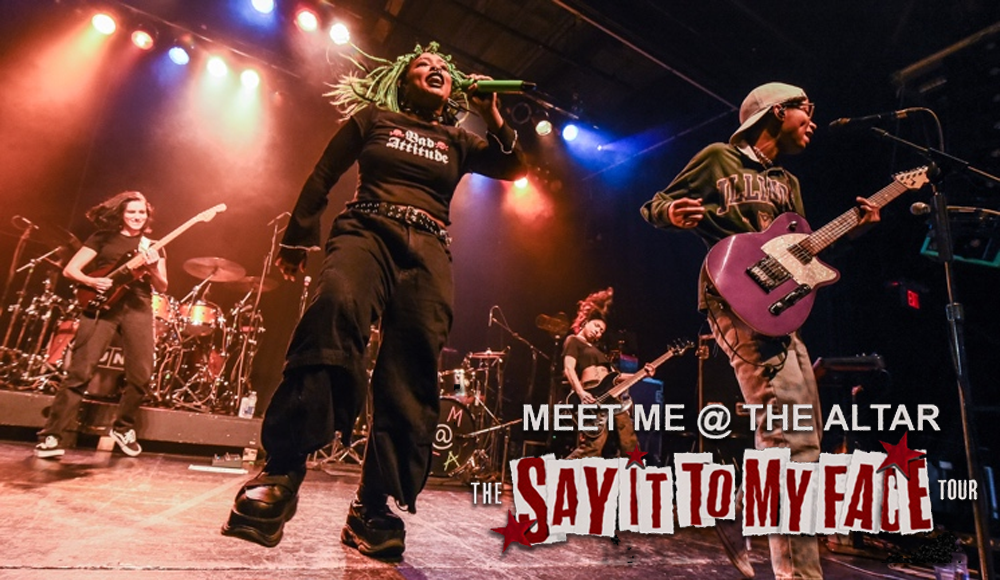 One of this generation's hottest pop-punk rockers is heading back to the road. Dropping a deluxe edition of their hard-hitting label debut LP "Past // Present // Future", Meet Me @ the Altar is spicing things up with a brand new "Say It To My Face" North American Tour slated for 2024. Edith Victoria, Téa Campbell, and Ada Juarezn will be joined by Honey Revenge, John Harvie, and Elliot Lee across the whole tour, kicking off in January. From supporting 5 Seconds of Summer's own tour, the young rockers are set to step into the spotlight, taking their new bangers on the road. The band is marking a special show right at NYC, Irving Plaza on Thursday, January 25th of the new year. From viral pink covers to a major-label deal, Meet Me @ the Altar just keeps getting bigger and bigger! Don't miss out on your favorite punk-rockin' bangers, live on stage, by booking your tickets now!
Re-writing the industry's pop-punk scene, rising stars Meet Me @ The Altar, broke off and defied industry stereotypes by doing their own thing. As Téa Campbell, Edith Victoria, and Ada Jaurez stumbled upon each other online, the band soon found itself rockin' it out in full force, releasing their debut record "Out of Sight, Out of Mind" in 2017. The name dates back to a conversation when Juarez sent Campbell a text message "marry me!" about Mortal Kombat characters, to which Campbell replied, "MEET ME AT THE ALTAR."
Going viral in 2020 alongside public acclaim from pop-punk veterans Alex Gaskarth and Dan Campbell, they soon found themselves signing a record deal with Fueled by Ramen.
Playing fire in an industry dominated by straight, white, and cis men, Meet
Me At The Altar is head-on serving diversity and new sonic flavors to the genre long dominated by white males. "We knew going into this that it wasn't going to be easy," Campbell told Rolling Stone in a conversation. "But we accepted that we have to take the harder way, so that the 12-year-old black girl looking up to us can do it the easy way."
Following the release of their major-label debut "Past // Present // Future" and a series of opening shows for 5 Seconds of Summer, they're down to serve a massive show of their own. On a mission of breaking boundaries in the industry for people of color to get their chance, Meet Me at The Altar is a rockin' catalyst for change. Back in 2021, when global lockdowns were still out and about, "When shows come back, venues need to book diverse bands," Johnson shared. "Pay attention to your scene — and make sure your show lineup is not just all white, straight cis men", referencing times when they played with local bands full of white dudes who weren't exactly fond of them being there.
With a new record up their sleeves, the band is stoked to kick off an extensive tour of their own. "Say It To My Face" dares to shut off every single person who doubts their passion. Its deluxe edition shared new tracks, "Give It Up" and a Freaky Friday soundtrack cover, "Take Me Away".
The altar awaits. Pop-punk masterpieces led by a trio of black and Latina women are here to save the day. Don't miss out on a rockin' night with Meet Me @ the Altar at Irving Plaza on January 25th by booking your tickets now!