Irving Plaza | New York City, New York
Perhaps one of the few positive things COVID-19 brought into the world of music is the conception of the supergroup L.S. Dunes. Their music has become a brimming light to one of the darkest moments of history, and this 2023, you can see the Anthony Green-led band on tour to entertain their fans with their famous defiant and anthemic tunes. The supergroup, which is consisted of members of the biggest rock bands, will perform songs from their debut album, "Past Lives," this July 17 at Irving Plaza. Get your tickets for the show and be among the hundreds of fans to witness how this superband spread good vibes through their anthemic punk rock tunes. If you are up for a masterclass of great music, you should definitely see them live on this epic Monday evening. The famous New York venue will surely heat up this July 17! Hit the "Get tickets" link to see this highly-anticipated concert!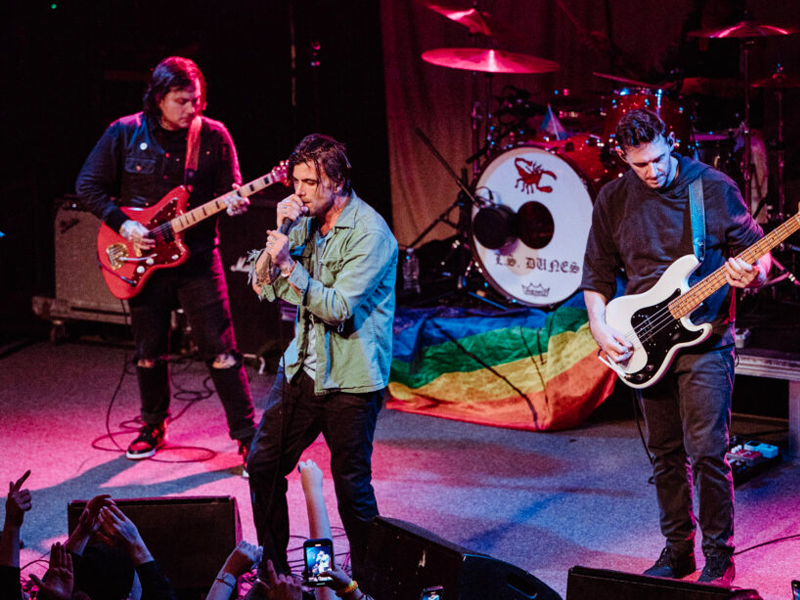 With members coming from different famous bands, L.S. Dunes is considered a superband. The group is known as the newest hotspot for the post-hardcore crowd. The supergroup is led by Anthony Green, lead singer of The Sound of Animals Fighting, and members of the rock bands Circa Survive and Saosin. Guitarist Frank Iero of My Chemical Romance, guitarist Travis Stever of Coheed, Cambria, bassist Tim Payne of Thursday, and drummer Tucker Rule round out the lineup. Their music is an upbeat blend of punk rock and other genres, with a defiant edge.
The band was formed in 2020 when Anthony Green decided to create a music project during the lockdowns. To achieve this, he looked for musicians to work with. The formation of the members was sparked by a live stream on Christmas that year, in which guitarist Frank Iero (My Chemical Romance) and Travis Stever (Coheed and Cambria), alongside bassist Tim Payne and drummer Tucker Rule (Thursday), joined together for an impromptu music session. That event revealed they have chemistry and should not take the potential lightly. After the lockdowns, they met in the middle of 2021.
The members began recording in secrecy, naming their project Dad Bods. The buzz that their supergroup intensified in May 2022 when their lineup was featured in Riot Fest, a punk rock music festival. Frank Iero (My Chemical Romance), Travis Stever (Coheed and Cambria), and Tim Payne (Thursday) would then reveal the band. At the same time, they released their debut single, "Permanent Rebellion." It was praised by many critics and media outlets. It was followed up by a music video.
Following the single's success, their debut album "Past Lives" finally went public. It contained 11 songs, three of which became their central singles. Proceeding the release of the first single, "Permanent Rebellion," "2022," and "Bombsquad" came out. The album was an expected success. Critics were impressed with their combined creativity.
The supergroup debuted at the Riot Fest, performing six songs from their first album. They have continued touring since then and reached venues overseas, such as in the U.K.
Catch the star-studded supergroup at the Irving Plaza on Monday, July 17. Ticket sales have begun. Get yours now before they sell out!