Irving Plaza | New York, New York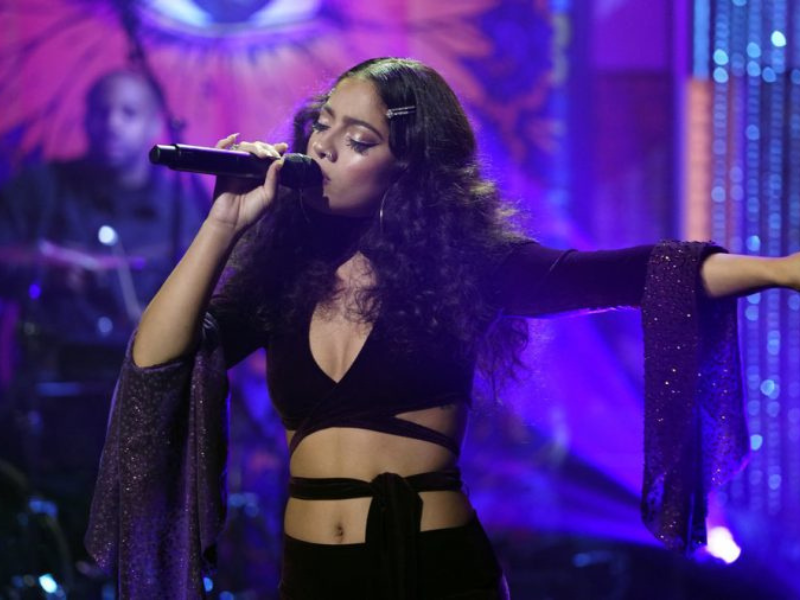 "Am I gonna sleep with him? Am I gonna wanna be friends with him or talk to him again or get back with him?" These thoughts have probably run through your head - thoughts that definitely ran through Kiana Ledé's head when she wrote her hit song, EX.
Talking about Kiana Ledé, the RnB singer who just released her latest album, Grudges. In this album, she's taking you through a journey of self-discovery and ultimately landing on a happy ending. To support the release of Grudges, Kiana is also kicking off a tour with the same name. Join the show as she performs hard-hitting tracks from her brand-new album!
On Tuesday, the 3rd of October, 2023, Kiana Ledé will be making her way to Irving Plaza in New York. We hope you're ready because this is your chance to finally see her perform live!
Click on "BUY TICKETS" right now to save seats for you and your friends.
Kiana Ledé started singing as an infant when she first learned the ABCs. She is a performer by nature, and even as a little girl, she loved to sing for many people. Ultimately, this got her in trouble at school because no one could stop her from singing! The decision to move her to a performing arts school was then made by her mother so she could "put her talent to good use."
Decades later, Kiana Ledé is now one of the most popular RnB singers in the world. Her mom definitely made the right decision! Since her debut EP, Selfless was released in 2018, Kiana has achieved international success. Working with big names in the industry like Khalid, Ella Mai, Ari Lennox, and many more!
She's known for releasing music that hits your inner thoughts because Kiana isn't afraid to say what's on her mind; she says it in person and sings about it through her music. Her hit singles "EX" and "Chocolate" are some of the ones who made it to the top of the charts.
She has just released her new album, Grudges - everyone has been waiting on this! Her evolution from Selfess to Grudges truly showcases her character development - as a human being and as an artist.
"I feel like when I've gone through some of the worst things I've been through, it has brought such a deep connection to me and the fans, or whoever's listening to the music. The worst things I go through go to waste if I don't share them for other people to learn from or feel less alone," Kiana said in a recent interview.
Kiana Ledé also said her latest album is "one big journal prompt." The songwriting process was her way of dealing with all the pent-up hurt, anger, and resentment she had been feeling these past few years. Picture perfect as she may be, she admits to dealing with issues in her private life. This album is her way of coping, her way of showing her true emotions. She wants to share it with everyone who listens to her music - to make them feel less alone.
The passionate RnB singer has a way of mesmerizing people with her voice. Rich and full of emotion, Kiana's voice is an art form in itself. Add on the fact that her lyrics are so raw and relatable - Kiana Ledé's tracks are masterpieces.
Catch a glimpse of Kiana Ledé on October 3 at the Irving Plaza in New York. You can buy tickets by clicking on the "GET TICKETS" button. See you at the show!