Irving Plaza | New York City, New York
Health & Perturbator comes to Irving Plaza on Sunday 4th September 2022 as part of a co-headlining tour beginning on 27th August in Dallas. The tour supports Pertubator's latest record, Lustful Sacraments. Street Sects will open on all North American dates of the tour, which wraps up with a final performance in San Francisco's August Hall. It features notable performances in Austin, Atlanta, Baltimore, New York and more destinations. James Kent, Pertubrbator's mastermind, expressed excitement about performing with rock band Health and American experimental band Street Sects. Fans are very excited to listen to Perturbator's Lustful Sacraments live in concert and if you're one of them, you need to get your tickets ASAP. Make sure you buy them right now because they could sold out very soon.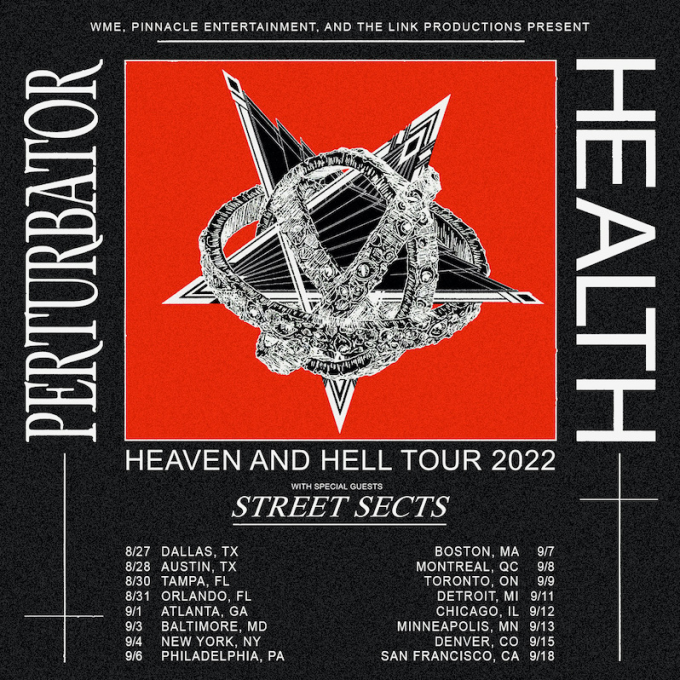 The co-headlining summer tour is expected to be one of the year's biggest happenings, starting in late August. Health's latest collabs album, DISC04::PART II features both Street Sects & Perturbator and has been quite a fan favorite since its release. Fans will demand some combined performance, but there is also great anticipation surrounding Perturbator's latest album, Lustful Sacraments. The album came out in May last year and has been defined as a cinematic and dynamic listening experience by music critics.
Health & Perturbator are renowned as great live acts, with their distinct music style. Perturbator mostly focuses on French synth-wave and includes other elements of industrial, dark synth and electronic in his music. Health is more of noise rock, an industrial rock band that stuns audiences with incredible live performances. The band has produced six hit studio albums, with Disco4: Part II being the latest. They bring so much energy to the stage that it literally radiates through each person in the crowd. If you're a fan of experimental rock, you cannot miss out on this special occasion and an extraordinary lineup. Make sure you get your tickets right now because Irving Plaza is always a sell-out venue, and tickets could end very soon.