Irving Plaza | New York City, New York
Budlight presents the most-awaited return of Governors Ball After Dark! The event is an exhilarating extension of the renowned music festival, offering a unique and intimate experience for music lovers around the globe. Hailing from the vibrant music scene in London, experimental rock band Black Midi will be performing their genre-defying hits live! From popular releases "Welcome to Hell" and "Eat Men Eat," prepare to be mesmerized by the explosive energy and avant-garde musicality that Black Midi brings to the stage. As daylight fades and darkness takes hold, the atmosphere at Irving Plaza will transform into a vibrant hub of energy and excitement as the Governors Ball After Dark kicks off. With an impressive improvisation of the talented artists and electrifying performances, this after-dark event promises to ignite your senses and keep you on your feet. Everyone you know is bound to be there! Don't miss out, secure your tickets for Friday, June 9th 2023!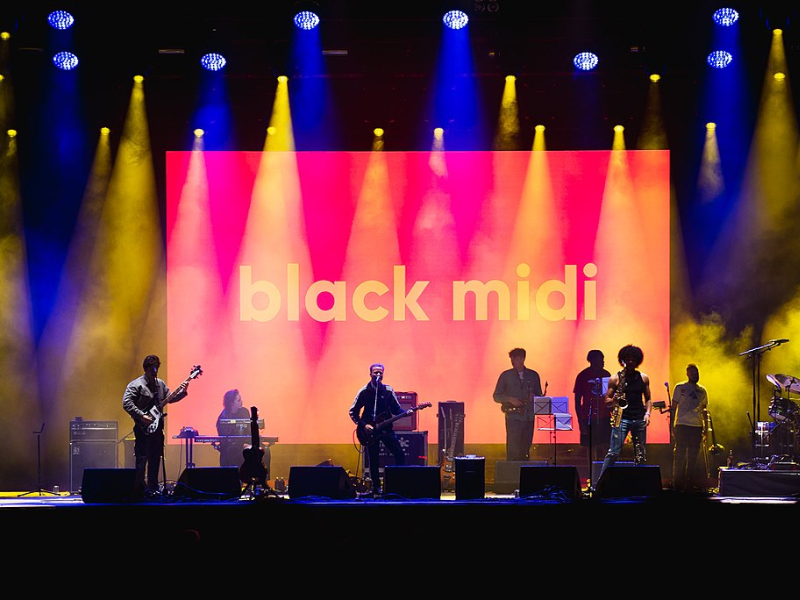 Black Midi is an experimental rock group originating from London, composed of Morgan Simpson on drums, Cameron Picton on bass and vocals, and Geordie Greep on guitar and vocals. They rose to prominence by extensively touring Europe, breaking into the American music scene, and garnering attention through various live performance videos shared online.
The black MIDI music genre, from which the band takes its name, deems the MIDI "black" because the notation of the music appears almost solid black due to the impossible number of notes. They are driven by the spirit of improvisation, and Greep's idiosyncratic voice fills a canvas of math-rock, progressive rock, post-punk, avant jazz, and noise.
They debuted with their single "bmbmbm" in 2018. In early 2019, the band unveiled two singles and revealed their debut album titled "Schlagenheim," which was released on June 21st of the same year, receiving widespread praise. Following this success, their second album, "Cavalcade," was released to universal critical acclaim in May 2021. Building on their triumphs, Black Midi released their third project, "Hellfire," on July 15th, which further garnered acclaim from critics and fans alike.
"The British trio's third studio album is a virtuosic exploration of brutality that showcases its technical mastery, expanded orchestrations, and sardonic humor," The New York Times shares.
The Governors Ball successfully captures "the blue-collar resilience and chaos of the city," NME shares. They continued to highlight that this festival is not focused on superficial pleasantries and polished appearances, although it does have its typical sponsors and aesthetically pleasing backdrops. Instead, its essence lies in being straightforward and getting to the heart of the matter.
Irving Plaza hosts this ball featuring high-end lighting and sound equipment while maintaining 19th-century charm, and full-service event production. It will hold the band's relentless, energetic live show for the full immersive experience!
Join fellow music aficionados and embrace the cutting-edge sounds of Black Midi at Governors Ball After Dark. Purchase your tickets now and be part of a truly sensational musical experience at the Irving Plaza on June 9th, 2023.