Irving Plaza | New York, New York
EVENT POSTPONED (date TBA). Hold on to your tickets! They will be valid for the new date once announced.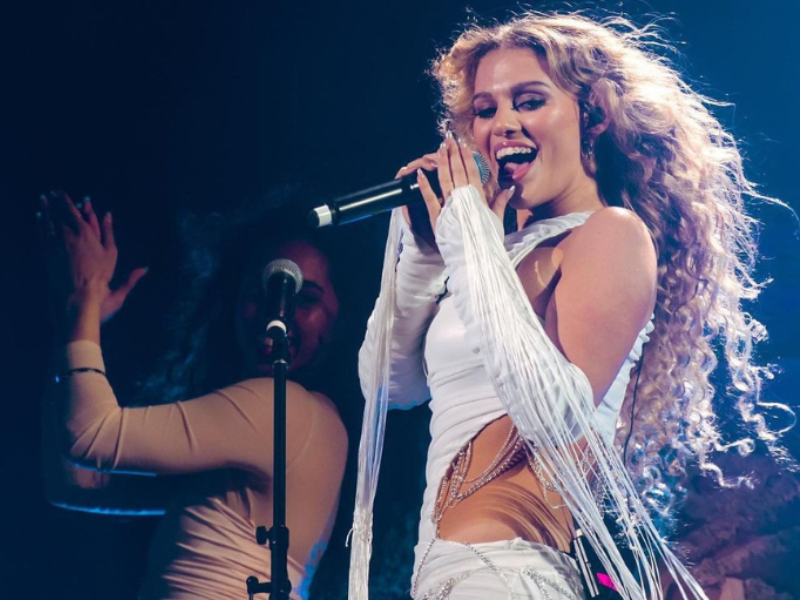 Be there and witness the meteoric ascent of the hypnotic Elyanna on Saturday, November 18, at the Irving Plaza! Rolling Stone's "must-see" artist of the year will embark on her inaugural North American tour this November, visiting ten major cities in three weeks. Elyanna made Coachella history last April with her all-Arabic setlist, lighting the path to the global breakthrough of her native music. Her songs, Western-influenced harmonies of traditional Arabian folk and cumbia melodies, first graced the airwaves in 2019, succeeded by self-titled EPs in the next two years. "Ana Lahale," "Mama Eh," "Ghareeb Alay." The pop star's music soundly conquered The Official Lebanese Top 20 charts, clinching multiple number 1 hits while attracting millions of streams on online platforms worldwide. NYC's Irving Plaza will play host to 2023's rising icon, promising fans a one-of-a-kind experience with its unique ambiance and crystal-clear acoustics. Get your Elyanna tickets now by clicking the button above!
Following her latest sold-out show at LA's Roxy Theatre, Palestinian-Chilean pop star Elyanna announces her North American touring debut this November! The nationwide series will kick off in Dallas, Texas, before hitting nine other major cities across three weeks. On November 18, the show will land at the Big Apple's Irving Plaza for a spectacular night defying language barriers through the rousing tempo of music.
"Like her bold wardrobe, Elyanna's music also takes risks in bridging cultural divides and exploring themes of immigrant experiences, love, and resilience."
Elyanna made history at the Coachella Music Festival with her fully Arabic setlist earlier this year. Inspired by singers such as Adele, she imbues Arabian folk music with Western beats, in addition to irresistible cumbia and belly dancing rhythms. She is now heralded as THE artist to watch by leading industry publications, including Pitchfork and Rolling Stones.
The 21-year-old released her first music collection in 2020 with a self-titled extended play, followed by the "Elyanna II" EP two years later. She was mentored by singer-producers Nasri and Massari, the latter of which lent vocals to one of her chart-topping songs. Elyanna dominates The Official Lebanese Top 20 weekly airplay charts, landing two number 1 hits ("Ana Lahale" and "Mama Eh"), one second-placer ("Ghareeb Alay"), and one sixth-place finisher ("Ala Bali"). She was also featured in another no. 1 hit, "Hada Ghareeb," performed by Jordanian singer-songwriter Issam Alnajjar. Overall, our headlining act has amassed tens of millions of streams across platforms, with "Ana Lahale" alone garnering 26 million.
"When I'm in the studio, I'm thinking, 'Oh, this would sound amazing live,' and all the ideas start coming… I want to put on a show, and I want people to come and watch something they've never seen before. I want it to feel like an experience," Elyanna shared in a recent interview.
Down by the Union Square neighborhood in Manhattan, New York, the ballroom-style Irving Plaza offers its floor to Elyanna's loving fans this Saturday, November 18. The indoor music venue presents an indie aesthetic that transforms into an energetic club atmosphere once the lights begin dancing, all while tunes reverberate across the hall through finely balanced acoustics. It's the perfect stage for this up-and-coming performer, so you best book your tickets now while you can!