Irving Plaza | New York, New York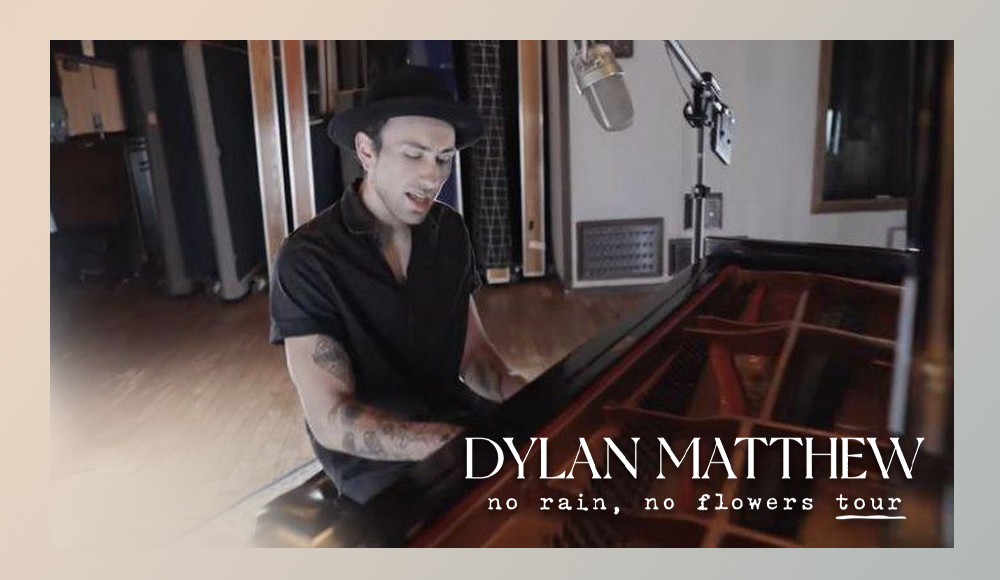 Fresh from a new record deal with HYBE America and Hard 8 Working Group's new subsidiary, "The Hard Working Record Company", Dylan Matthew is set to work harder than ever. Telling his life tales through dance bops and pop hits since 2016, the man is finally launching his first-ever headlining trek. The "no rain, no flowers tour" is sending Matthew across North America, including a special stop at Irving Plaza on Wednesday, October 11th of this year. With over 5 million listeners on Spotify, and 700K+ followers on TikTok, the artist's shimmering vocals and honest tales are bound for greater heights. Having worked with some of the most iconic EDM artists in the scene, Dylan Matthew is definitely a name to remember. Better tune in to his solo hits including "Boys Do Cry", and "Sober", or some of his best work as a featured artist for Slander's "Love Is Gone" and "First Time" with Seven Lions, Slander, and Dabin. Launching his much-awaited tour across the nation, don't miss out by booking your tickets now!
One of the hottest rising Indie pop artists is staging his first-ever headlining trek - Dylan Matthew. From YouTube covers to EDM-featured vocals and releasing his own original work, followers of the talented lad are in for a treat! Kicking off his very own "no rain, no flowers tour", Matthew is finally giving his track record of astounding vocals and personal tales a live stage treatment. You'll finally get to hear his sweet notes on "Sober" and "Boys Do Cry" live on stage!
As his first solo trek, we bet he's gonna throw some big surprises in the mix. Coming fresh from a new record label deal with The Hard Working Record Company, a new subsidiary of Big Machine and Hard 8 Working Group, new music is definitely working on new tracks for everyone to take heart. Last June, he finally dropped his newest single "Killing Me", a shimmering ballad featuring his raw vocals singing honest tales of unrequited love.
"Killing Me sets the stage for what's to come. It's the first song that sets the tone of a larger chronological story," he explained. "After disconnecting from social media and working away on my music, it felt like I needed a song to start this new chapter."
Entering a new chapter in his life, he's set to continue telling his life tales and offering the reason why his fans stay, hope. Producing viral hits including "Love Is Gone" and garnering attention from various EDM producers, Matthew's journey wasn't all glitter and gold. Having gone through a breakup that prompted him to disconnect for a while, he's built himself right back up, stronger than ever.
"It's me at my most vulnerable and serves as an explanation to listeners about what I've been through, what my upcoming work is about, and gives everyone a starting point to the story," he added.
On his new label, Dylan shares how he felt the team at Big Machine and The Hard Working Record Company was the best fit. "I met with a few different labels and spent a lot of time really ideating the different offers," he shared. "It came down to certain points I felt were important to the growth of my career, the team that I would be working with, and the energy I got when meeting them."
Kicking off his career and gaining increasing attention since 2016, Dylan Matthew has always been a star in the making. From scoring his first Platinum hit "Love Is Gone" and setting foot on stage in various festivals including Coachella and Lollapalooza, he's always worked hard to get his music out there. Several DJs also saw potential in the young lad for his unique vocal character, giving him the honor to feature in their tracks including "First Time" by Seven Lions, Slander and Dabin. This time around, he's set to make it big with a new start.
"Dylan is exactly the kind of artist we wanted to kick off with for The Hard Working Record Company," CEO Scott Borchetta shared. "He's a mega-talented self-starter and a master of unique pop structure and melodies. We're thrilled he chose us, and we look forward to the global attack."
With a global attack in the works, we're definitely stoked to see what Dylan Matthew has in store in the coming months and years. As he kicks off this new chapter, make sure to save your spots at the party, launching the "no rain, no flowers tour" at Irving Plaza this October 11th. Book your tickets now!