Irving Plaza | New York City, New York
Dark Heart are crashing onto the stage of the Irving Plaza, New York City, for the last evening in a special 2 date concert. The date to save in your diaries is Saturday the 3rd of June 2023 as it will be an amazing night of thrashing guitar riffs, hard beats and extensive instrumental sections full of high energy with one of the hardest hitting heavy metal bands. Make sure you don't hesitate to book your tickets now, as they are extremely limited. Dark Hearts has recently reformed and despite the heartache the year has bought in the loss of Jim Durkin, they still stick to their motto of, 'too fast; my ass', so make sure you join them and get involved in the fast pace and thrash-dance as they play their greatest music and celebrate the fallen Dark Heart's thrasher. Join them and book your tickets for 06/03/2023 at the Irving Plaza.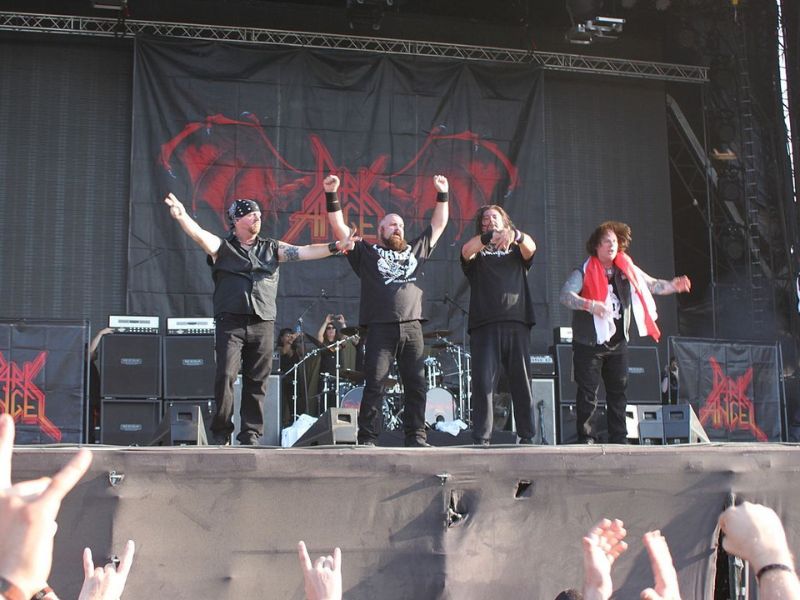 The heavy metal band, Dark Angel, are the metal-heads that have been nicknamed 'the L.A Caffeine Machine' with their over-the-top style and high energy. They are renowned for their lengthy songs created with masses of tempo changes, their lyrics and extended instrumental parts, which has created some of the most articulate yet challenging material in thrash music. Dark Angel formed in 1981 and started making noise in the Bay Area thrash movement within California. Their debut album was released in 1985 and titled, 'We Have Arrived', and was an enthusiastic burst into the world of heavy metal. Yet, it was with the release of their second studio album, 'Darkness Descends', that they reached legendary status as heavy rockers. The tracks have become iconic thrash songs, such as the re-recording of 'Merciless Death', the biblical story of Sodom and Gomorrah being depicted in 'The Burning of Sodom' and of course, the album title track, 'Darkness Descends' that is based on the comic book characters, The Dark Judges. Decibel Magazine placed it 9th on their '50 Greatest Thrash Metal Albums of All Time', showing the staying power of Dark Angel's music. In March this year, the founding guitarist, Jim Durkin passed, and has left the band with none of its original members. Yet, the memory of Durkin and the band's dark heart lives on. Laura Christine is taking up the mantel of Durkin, and as well as confirmation of a new album release in the not-too-distant future, Dark Hearts are holding just 2 special concerts as tribute to Durkin's life and legacy. They will be performing the entire classic album, 'Darkness Descends', reminding thrashers why they are classic metal tracks at NYC's Irving Plaza. Prong, Whiplash and Ready for Death will be joining them and adding even more high-speed tempos and heavy, aggressive music to the evening. Tickets are extremely limited, and there are only 2 chances to experience this exclusive concert, so book now and mosh out with Dark Heart and supporting artists on the 3rd of June this year at the Irving Plaza for their live performance of, 'Darkness Descends'.