Irving Plaza | New York, New York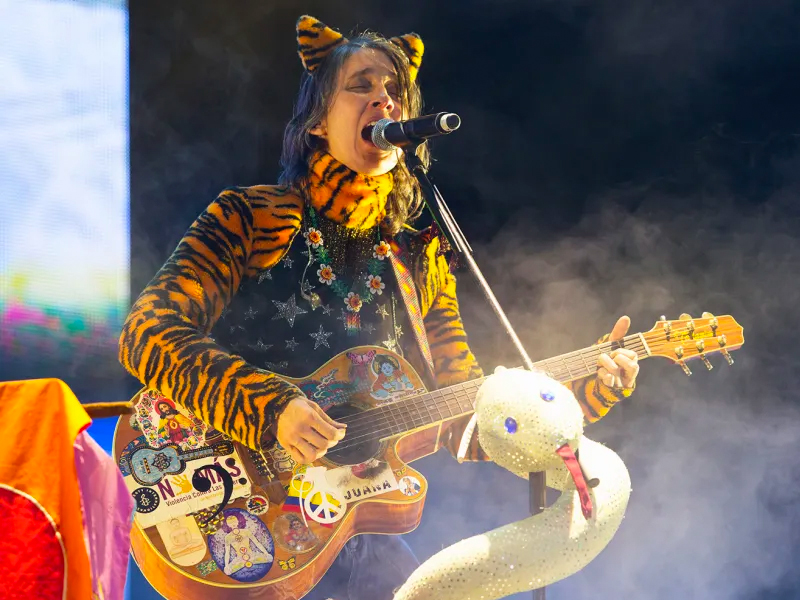 Looking for a creative concert filled with energy and passion? You've come to the right place because we have something in store for you that will make you dance and sing the night away this December 8. The Latin sensation Aterciopelados will bring the eccentricity and power of their voices and instrumentality to New York's Irving Plaza. Yes, you've read that right. The "Velvet Ones"—their name's literal translations—will sport their unique Latin sounds in the heart of New York City in an evening filled with classic Latin music fused with rock tunes that give a nod to the cultural diversity of Colombia and Latin America. Sing along to hits like "Bolero Falaz," "El Estuche," "Florecita Rockera," "Maligno," and many others. Immerse yourself in the music of these iconic musicians and be captivated by the depth of lyricism of their songs that unapologetically discuss socially conscious and thought-provoking themes. So, if you are up for something velvety this December 8, the "Get Tickets" link is waiting for you. Secure yours now before they run out.
Aterciopelados is a Spanish rock band that makes use of innovative ways to create music. The influence of this band on the Spanish rock scene is immense. Among the first rock bands in Colombia, they gained national support and rose to international fame. Their rise to the top is unbarred with the help of their continuously evolving music. Since their establishment in 1992, they have skyrocketed to stardom and multiple acclaims. They have received multiple Latin Grammy's and other accolades from many award-giving bodies. Even though they are more or less three decades in the scene, their fire never dwindled. This is thanks to their empowering and socially conscious songs. They sing what the people experience, adding to their relatability among fans.
The band was initially a collaboration between Colombian singer-songwriter Andrea Echeverri and bassist Hector Buitrago. Initially, they called the project "Delia y los Aminoácidos." They later changed it to Aterciopelados (The Velvet Ones). Their early music was not premature and was praised for their capacity to cleverly play around tunes. This was evident in their first album "Con El Corazón en la Mano" ("With my Heart in my Hand"). The sound was foreign to their country but was powerful enough that it was liked. This was followed by the sophomore "El Dorado." Right after this initial album, they refined their style and put into the mix many traditional Colombian sounds like vallenato and cumbia. This was a great step in their career, as proven by their subsequent release. "La Pipa de la Paz" ("The Pipe of Peace") was recorded in London with the help of English guitarist Phil Manzanera. Right after the album came out, they were destined for stardom. The album was a hit in North America. "Caribe Atómico" ("Atomic Caribbean") was then recorded in Manhattan. They released four more albums afterward.
In the Grammy Awards, the band was nominated six times from 1998 to 2009. In the Latin Grammys, they won four awards, including "Best Alternative Music Album" in 2018 for "Claroscura." Their career was mold-breaking, and they were recognized appropriately.
The Irving Plaza will be filled with Aterciopelados classics, as they will perform in the venue on December 8. Coming with them is Angelica Garcia, the POTUS favorite composer of the song "Jícama." Book your tickets now!