Irving Plaza | New York City, New York
Let's go Barbie! Getting the world to sing "I'm a Barbie girl, in a Barbie world…", the song still sticks around 25 years since its release. The Europop group, Aqua is definitely still alive and kicking! Serving hard-hitting classic hits and a few of their newer material, Aqua is hitting the stage at Irving Plaza on Monday, 26th of June 2023. Bringing 'Barbie Girl' to NYC, it's gonna be a wild night full of dancefloor hits as Aqua serves its signature early-2000s electro beats such as "Doctor Jones", "Cartoon Heroes", "Back to the 80s", "Turn Back Time", and of course who could ever forget the smash hit "Barbie Girl". Living life in plastic, it's definitely fantastic as Aqua continues to slay and turn up the dancefloor for over two decades. Selling millions of records at the turn of the millennium, Aqua's party isn't stopping anytime soon. Get your 'Barbie Girl' outfits ready and book those tickets now!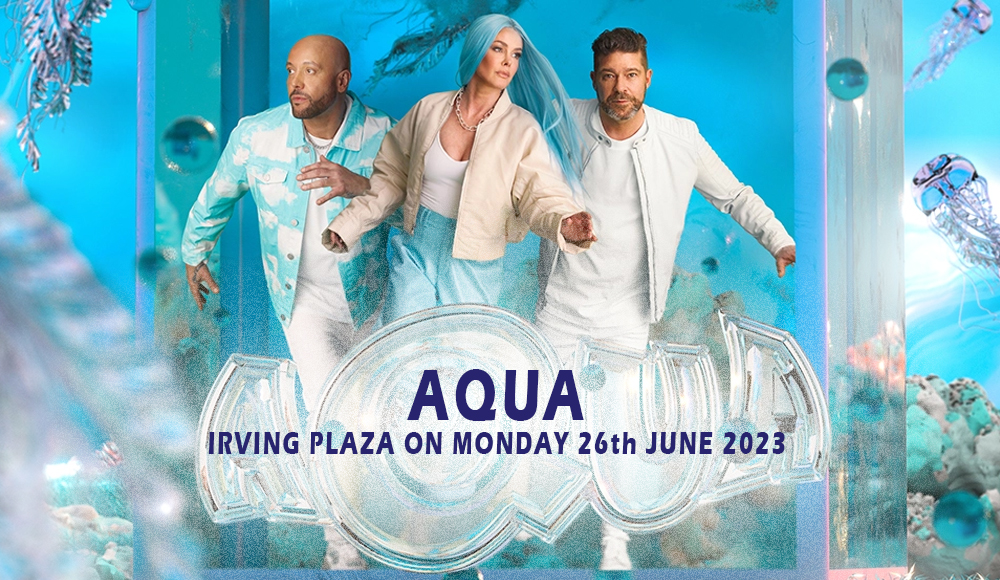 Life in plastic, it's fantastic! Get your 'Barbie Girl' outfits ready as the iconic Europop band Aqua is set to throw the biggest 90s and electro-2000s parties as they hop on tour! Embracing over 25 years since the release of their smash hit single "Barbie Girl", the band is set to serve magical summer nights with addictive dancefloor hits. This time around, they're heading to NYC for a special show at Irving Plaza on June 26th.
Having been 25 years since global domination, "Barbie Girl" continues to find itself shining bright, being played in clubs, various remixes, at RuPaul's Drag Race performances, and even Ava Max's reimagined sample of the hit track. Ava Max may not be your 'Barbie girl', but the song's definitely still a hard-hitter on our list!
Skyrocketing to become Denmark's most successful band, "We always dreamt big, but never this big," Nystrøm shares with MTV News. Aqua's debut album "Aquarium" marked the band's success in experimenting with a new bubblegum pop sound. Their debut single "Roses Are Red" performed well in its home base, but the ultimate surprise came at the release of its third single "Barbie Girl". Aqua defied expectations and hit #1 in Denmark, Australia, UK, and other European countries, while also hitting the Top 10 on the Billboard Hot 100. Kid you not, making it to the top 10 of the Hot 100 was something rarely achieved by Europop artists back in the day. Singing about life in plastic was definitely a fantastic move.
"We hoped we were going to make it in Denmark and maybe Norway and Sweden, but I don't think anybody really would've expected that it would go this far and that hard," Nystrøm added.
Beyond "Barbie Girl", Aqua went on to become a '90s Europop icon for their hard-hitting bubblegum pop releases. Their succeeding releases continued to shake up clubs and dancefloors with "Doctor Jones", "Turn Back Time", "Back to the 80s", "Good Morning Sunshine", and "Lollipop (Candyman)".
From a Barbie girl, the band's lead vocalist Nystrøm turned to embrace herself as a "rock chick" as she defied the expectations and assumptions of people around her. As people wanted her to actually look like a "Barbie Girl", she turned to rebel against these opinions and embraced who she wanted to be. "That made me kind of rebellious, actually," she told Nylon in an interview. "I turned into this rock chick just to kind-of be on the opposite side of whatever people wanted me to look like."
Back together, Aqua is set to throw this year's biggest '90s Europop parties, with a couple of shows in the US, UK, Canada, and Europe. Don't miss out on the wonderful life in plastic by getting your 'Barbie Girl' dancefloor outfits ready. Book your tickets now!